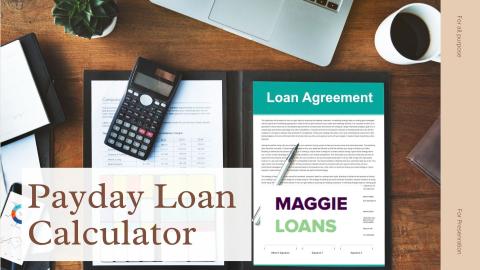 How Payday Loan Interest Rates Are Calculated?
At the moment, a Payday Loan is one of the most popular types of financing for a difficult life situation, as it helps the borrower to cover either personal needs. Whether you need urgent medical treatment, car repairs, an emergency purchase, or debt consolidation, a Payday Loan can be your lifesaver. However, how does Payday Loan work? What interest rate does it have? How are interest rates calculated and what is the Payday Loan Calculator? Keep reading for more details.
Payday Loan Definition
A Payday Loan is a simple, unsecured type of financing that helps borrowers in difficult situations to apply for and receive money for their needs. It is important to note that this loan is short-term, so you will need to repay it on your next payday (most often within 14-21 days). The loan amount usually ranges from $100 to $1000.
Also, Payday Loans are unsecured, so you don't have to provide collateral and risk your assets in order for your funding application to be approved.
How Does A Payday Loan work?
Payday Loans work like this: you choose the right lender for you, apply, wait for approval, and then get the money directly into your bank account.
This loan is quite popular, as it does not have a large number of eligibility criteria and is fairly easy to obtain. Even those borrowers who have bad credit history and who have already missed loan payments can now apply and get a Payday Loan for their needs.
How Much Does Payday Loan cost?
You probably know that a Payday Loan is a rather expensive type of financing. That is why experts recommend applying for this loan only in case of emergency. However, how much can this loan cost?
Most often, borrowers have to pay between $15 and $30 for every $100 borrowed. Thus, Payday Loan interest rates can be as high as 600%.
What Is A Payday Loan Calculator?
Of course, a Payday Loan can help you find fast financing when you find yourself in a difficult life situation. However, you must understand that it has a fairly high cost, so if you cannot pay off the debt on time, it can lead you to even more problems. The Payday Loan calculator can help you figure out if you can pay off your debt on time.
So, if you want to take out a Payday Loan, the first thing you should do is check out the Payday Loan calculator to see the potential interest rate you can afford.
Why Do I Need Payday Loan Calculator?
Payday Loan Calculator helps you determine not only the actual annual percentage rate, but also the total cost of a Payday Loan. This calculator is an excellent tool for evaluating and comparing the cost of obtaining a Payday Loan with another alternative loan. Thus, by paying attention to various loan offers and interest rates, you will be able to choose the most suitable one for you.
Thus, once you open the Payday Loan calculator, you will need to enter the loan amount, your potential lender's APR, and the term of the loan. Let's say you want to apply for a $500 Payday Loan with a 31-day repayment term and an APR of 400%. By entering this data, the calculator will show you that the repayable amount will be $666.67 with interest. Also using the calculator you can see the amount borrowed ($500) and total interest payable ($166.67).
This way, after you see potential APRs, you can decide if the loan offer is right for you or if you should look for alternative options.
How Payday Loan Interest Rates Are Calculated?
Since a Payday Loan is a rather expensive type of financing, many borrowers want to know how the annual percentage rate is calculated. So, at this point, in order to calculate the interest rate, you need to divide the amount of interest paid by the amount of the loan, and then multiply that by 365. Next, you need to divide the result by the length of the repayment term, and then multiply that by 100.
Remember that the annual interest rate on a Payday Loan is much higher than any other loan offered. Thus, you may want to consider alternative options before applying.
Payday Loan Considerations
Before you apply for a Payday Loan, it is important to pay attention to a few things. Below you can explore the main ones:
Use the Payday Loan Calculator to find out the total amount of interest and the amount of monthly payments that you will need to make.
Pay attention to the loan agreement and make sure that you are satisfied with the terms of the loan. Study in detail the terms of debt repayment, as well as additional commissions and payments.
Make sure that you can really pay off the debt on time in accordance with the terms of the contract.
Payday Loan Alternatives
If a Payday Loan is expensive enough for you, you should look at alternative options that can also help you get financing in a short period of time:
Personal Loan. This loan is unsecured and offers borrowers between $1,000 and $100,000 to meet their personal needs.
Title Loan. This type of financing is secured and your car is collateral for the loan. However, you can get a much better loan offer because the lender has some kind of guarantee that the debt will be paid on time.
Friends and family. You can also always turn to friends and family and explain that you are in a difficult financial situation. They will most likely be able to provide you with necessary financing.