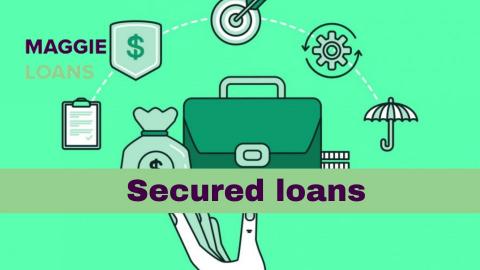 What is a Secured Loan?
A Secured Loan is a type of financing that requires a property or asset as collateral for the loan. Thus, your property is used to "secure" the loan. It can often be difficult for someone with a low credit score to find a good deal as lenders don't want to risk their money, however a Secured Loan can be a good solution. When you provide property as collateral, lenders have more guarantee that the loan will be repaid.
However, please note that a Secured Loan has a number of risks. If you are unable to repay the loan on time, the lender will sell your property in order to consolidate the debt. Thus, make sure you can repay the loan before applying.
What is the difference between Secured and Unsecured Loans?
It is very important to know how a Secured Loan differs from an Unsecured one before applying. While Secured Loans require the borrower to provide collateral in order to obtain a loan, with an Unsecured Loan you do not need to risk your property.
Unsecured Loans often have less favorable interest rates than Secured ones because the lender has fewer guarantees that the loan will be repaid on time. Also, often with a Secured Loan, you can get more money for a longer period of time.
Types of Secured Loans
There are a large number of Secured Loans that are designed to cover the specific needs of the borrowers. Study the main ones in order to understand which one suits you best:
Mortgage Loan. One of the most famous types of Secured Loans is Mortgage, which is used to pay for home. Typically, the monthly mortgage payments will include the principal and interest, and also taxes and insurance.
Home Equity Line of Credit. HELOC enables people to borrow money using home equity as collateral for a loan.
Title Loan. Another popular type of Secured Loans is the Title Loan. In order to obtain a loan, you must fully own the title of the car and temporarily transfer it to the lender.
Also if there are a large number of other secured vehicle related loans such as Boat Loan, RV Loan and so on.
How does a Secured Loan work?
A Secured Loan, like any other loan, allows a borrower to obtain funding to deal with an emergency or personal need. The debt is repaid in regular monthly installments.
Most lenders offer Secured Loans, so you can go to a bank or online lenders to get it. Typically, lenders offer traditional Secured Loans such as a Mortgage or Auto Loan.
It is important to note that oftentimes the secured loan lenders require a credit check. Thus, your interest rate will be based on your credit history. However, you should be aware that generally the rates for Secured Loans are lower than those for Unsecured Loans, since you are using the property as collateral.
If your loan is approved, then the lender becomes the temporary owner of your asset as he places a "lien" on your collateral. Your property will be returned to you when the loan is fully repaid. However, if you are late in payments and cannot pay the debt on time, the lender will be able to repossess your property.
What are the advantages and disadvantages of a Secured Loan?
Benefits:
Borrowing limits. With a Secured Loan, you will be able to get a larger amount than with an unsecured one.
Repayment terms. Often times, lenders will also offer better and longer repayment terms for a Secured Loan.
Interest rates. Since you provide the asset as collateral and the lender has more guarantees, you will receive better interest rates.
Disadvantages:
Possibility to lose collateral. If you are unable to make timely payments, you may lose your collateral in order for the borrower to consolidate the loan debt.