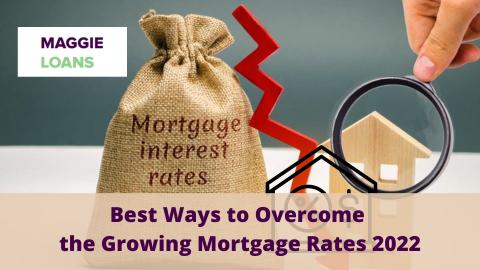 The past few months have seen a sharp increase in mortgage rates, which has resulted in a sudden increase in monthly payments for new house loans. While some buyers may be leaving the market in the hope that rates will decrease once again or that home prices will stabilize, those who are still looking for a home are figuring out how to deal with a mortgage rate above 5%.
Ways to Help You Lower Your Mortgage Rates
There are numerous methods consumers can take to cut their own individual mortgage rate even though the mortgage industry is increasing.
More information on each tactic and how it can help you lower your mortgage rate, even in a high-interest market, is provided below.
Compare prices
Make sure to get in touch with numerous different lenders when searching for mortgages. Mortgage bankers, local credit unions, regional banks, national banks, and mortgage brokers may all provide unique loan programs, each with its own interest rates and costs. While some lenders are better suited for refinancing, others cater to first-time homebuyers.
When selecting a lender, thoroughly weigh your options and take into account your unique circumstances. Do your research to be sure you're obtaining the best option for your needs, even if your real estate agent has some ideas. You should get in touch with several lenders on the same day and at around the same time to really evaluate rates because loan rates can fluctuate regularly. When evaluating the possible savings, take into account any related costs as well.
Boost your credit rating
Regardless of the loan you select, a higher credit score will probably result in a better mortgage rate. A good credit score can help you qualify for better rates and lower monthly payments, much like putting more money down on a house.
Your credit score is an indication of your risk to a lender: the lower the score, the greater the risk. Due to this, lenders may charge applicants with poorer credit scores a higher interest rate. A low interest rate is more likely to be provided to you if you apply for a loan and have good credit. If you already have a loan, it's still possible to refinance your mortgage and raise your credit score to be eligible for better rates.
Personal loans
You should compare interest rates from various lenders to find the best deal on the loan program you desire. The best deal can often be found by shopping around. Personal loans' interest rate is frequently less than the interest rates you have been paying on your previous debts. You'll pay less in payments throughout the course of the loan if the interest rate is lower. Additionally, you might be able to contribute a little additional money toward the principal, giving you more room to pay off the loan sooner.
The personal loan you apply for is an additional way to be used for financing the existing mortgage.  Additionally, if your debt doesn't contain a prepayment penalty (also known as an early payout fee), you might want to think about paying the personal loan in full with the same amount of money you would have used to pay off all of your other debts. This could expedite your debt repayment (and save even more on interest charges).
Remember that fewer consumers are buying and refinancing due to the increase in interest rates. Lenders are thus more likely to compete for your loan because they are eager for business. By negotiating for a lower interest rate and/or fewer closing charges, you can take advantage of this.
Mortgage refinancing
You may be able to save money throughout the life of the loan by renegotiating the conditions of your mortgage. There are numerous refinancing options available, each with advantages and disadvantages. Here are some possibilities for refinancing and how they can lower your mortgage rate.
Consider converting your loan to a fixed-rate mortgage if you anticipate an increase in your adjustable-rate mortgage (ARM). This enables you to pay your principal and interest on a regular monthly basis.
You might be able to lower the interest rate on your fixed-rate mortgage if your financial status has improved since you signed the loan. People whose credit ratings have improved or whose rates have fallen should consider this option in particular. You might be able to modify the term of your loan when refinancing a fixed-rate mortgage in order to better meet your needs.
The Bottom Line
Higher mortgage rates can result in larger monthly payments and more interest overall paid during the loan's term. But that doesn't imply you should start panicking or making snap decisions.
A huge choice is purchasing a home. You won't have to stress about attempting to time the market or interest rate correctly, which frequently results in regret. Purchase a home when the timing is opportune for you to do so. Keep headlines and peer pressure out of that. Instead, regardless of interest rate or home price, make the purchase when you can make the payments.