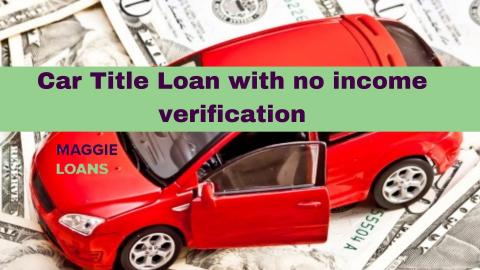 What is a Title Loan?
A Title Loan is a short term secured type of loan for borrowers with any credit history. This type of financing requires collateral, so your vehicle title secures the loan. You must temporarily transfer the title to the lender until the loan is fully repaid. As a rule, you must repay the debt within 30 days.
The Title Loan is quite simple to use; however, it has certain risks. If you are unable to make timely payments, you will most likely lose collateral and the lender will sell your car in order to consolidate the debt.
How to get a Car Title Loan with no income verification?
Yes, you can get a loan without proof of traditional income. Lenders offer these options because your loan is already secured by your car. This way, if you are unable to repay it, the lender can repossess your car. Since the title lenders have more guarantees that the loan will be repaid, they often do not ask for income verification.
Despite the fact that most people believe that they need to produce a paystub from a job, in fact it is not necessary, since proof of income is not the same as proof of employment. Thus, if a person does not have a job, this does not mean that he does not have the money to pay off the debt.
What can I use as proof of income?
Since not everyone has a job that allows him to prove that he is receiving money, lenders accept other types of income. Explore the main ones:
Under the table income. If you receive cash from an employer for work done, he can sign a letter with your name, services, and the amount you receive. Lenders often take this as proof of income.
Annuities. Annuities are funds that produce a steady income for a fixed period. You can also use annuities as proof of income.
Social security benefits. Often, you can use any regular payments from the government as proof of income (such as unemployment or disability benefits).
Inheritance and trust funds. Inheritance can also qualify as a source of income when you receive a loan (if you receive payments on a regular basis).
There are many other types of income that lenders can also accept in order for you to obtain a loan. Thus, as you can see, Car Title Loan with no income verification is a convenient and flexible way of financing.
How can I apply for a Car Title Loan with no income verification?
These loans are simple and safe, so in order to get them, you just need to follow a few simple steps:
Make sure you meet the requirements. It is important to review the eligibility criteria before applying for a Title Loan. In order to receive a loan, you must fully own a car, have a free and clean title, provide proof of residence, and so on.
Complete a simple online form. Visit the site of the selected lender and provide basic information about yourself and your vehicle.
Provide photographs of the vehicle. If you want to receive a completely online Title Loan with no income verification, you must provide recent photographs of the vehicle in order to confirm its make, model, condition, mileage, year, and so on.
Wait for approval. The lender will examine your details and contact you to discuss the terms of the loan and its repayment.
Get paid. If you are satisfied with the terms of the loan, you can sign a loan agreement and transfer the title of the car to the lender. The loan amount will be transferred directly to your bank account.
If you meet the basic requirements of the lender and provide vehicle, then the chance of getting a loan with no income verification is great enough.